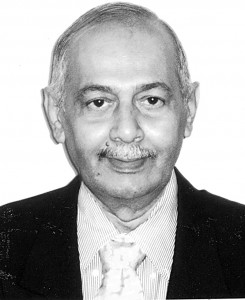 P. V. Laxminarayana (1939-2010) – PVL or Laxmi, as he was popularly known was a well-known chartered accountant, Rotarian and philanthropist.
He passed away on the morning of June 23, 2010.
He was a long time resident of Mylapore, since his marriage to Sita, daughter of late C.R. Narayana Rao, architect.
He started his private practice as a chartered accountant in 1974 in Mylapore.
He was a dedicated Rotarian belonging to Madras South, serving in various positions over his 40 years with Rotary, and recently a Paul Harris Fellow.
Full of humour, ever helpful, he has helped a number of social and religious organisations in his time.
He is survived by wife Sita, his two sons Venkatesh and Ramachandran, and their families.
They can be contacted at No. 4, 4th Cross Street, C.I.T. Colony, Mylapore.