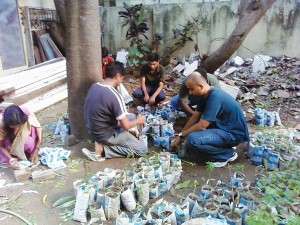 Reported by Ranjini R.
A hot Saturday afternoon was dedicated to making the city cooler by making a simple effort of planting trees – and the effort began at Devanathan Street in Mandaveli.
A group of young Green Peace volunteers headed by Dr. Madhavan worked to save small plants on road corners that may be potential trees tomorrow.
They are on a mission of 'saving' 10,000 saplings and planting them.
Any sapling on pavements or road corners are carefully taken out and nourished.
Dr. Madhavan has been actively working on planting of trees for many years.
He teaches volunteers the nuances of nurturing a sapling.
Manure is made from vegetable waste and household materials available and milk sachet covers are used to pack the saplings.
The team is in need of 1-litre milk covers which are very useful for holding the saplings. People can donate empty milk covers. If you have some drop them at 4/30 Sri Ranga Hospital, Devanathan Street, Chennai-28.
This project has been going on for the past 2 months and will continue to until the team reaches their target of 10,000 saplings.
The vast varieties of saplings are available to the public free of cost. Volunteers are sent to check on the saplings adopted so that the effort does not go waste and no plant is lost.
The Green Peace team is eager to teach students about the eco friendly ways of living and how to nurture saplings. Any school interested may contact Dona at 9566194586, coordinator of Green Peace.
Volunteers are always welcome to join and support Dr. Madhavan. Call him at – 9840472623.