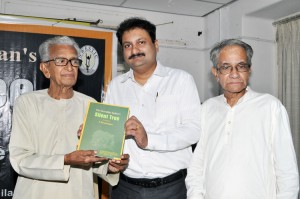 Emmaus Community Welfare Fund (ECOMWEL) and Saraswathi Women Educational Service Training and Improvement Centre (SWESTIC) had released a journal 'The Incredible India's Silent Tree' written by P. Ramalingam.
The book is a life journal of the author, it describes his experience as an executive engineer in Madhya Pradesh. He has dedicated this journal to his wife.
The event was held on August 14 at Dr. Durgabai Deshmukh Centenary Hall, Andhra Mahila Sabha, Luz Church Road.
The event was presided by N. Vittal, IAS (Retd.), Former Chief Vigilance Commissioner. The chief guest was V. Kalyanam. The first copy was received by Sanjay Pinto, Executive Editor, NDTV Hindu. The guest of honor was Padma Venkataraman, Trustee – Global Cancer Concern.
In the photo (L to R) is Kalyanam handing over the first copy of the journal to Sanjay Pinto. Seen along with him is author P. Ramalingam.