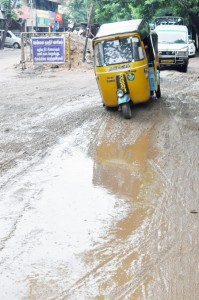 The city has been receiving continuous rain for the last couple of days due to the low pressure created in the Bay of Bengal.
The Mylapore neighborhood has also been enjoying these showers.
However, the continuous rain has battered the main and inner roads in some areas and caused water to stagnate in others.
The R.K. Mutt Road is a case in point. The stretch from the Mandaveli Post Office to the MTC terminus was scraped in order to relay this busy road.
The work was not carried out. Today, this stretch has large craters and potholes.
Opposite the Chennai BSNL office in R. K. Nagar, the huge excavation in the middle of the road by Metrowater to set right a pipeline problem has aggravated the conditions here. (seen in photo)
The slush, wet mud and potholes has created a danger zone for motorists and pedestrians.
<< You are invited to mail pictures which illustrate civic problems in your area. Mail to – mytimesedit@gmail.com >>