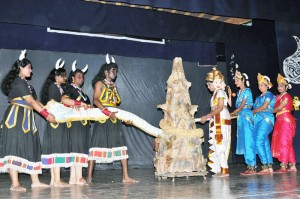 The X Annual day celebration of Sir Sivaswami Kalalaya Higher Secondary School, Mandaveli was held on August 11. The event was held at Narada Gana Sabha, TTK Road.
The chief guest for the annual day was Sarada Jagan, Executive Director – HR, The Sanmar group – Corporate Divn.
The theme for this years annual day was 'Patham Pathu', to mark 10 years of the schools existence.
Students presented various cultural programs like Folk dance, plays from Ramayana and other epics.
The school can be reached at 044 2495 7950.
The picture shows students staging a play from an epic. Click here to see more pictures of the annual day.