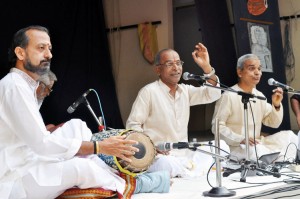 Svanubhava, a fest for students of classical dance and music in Chennai began on August 2.
It was organised by Matrka (a body promoted by artistes T. M. Krishna and Bombay Jayashri) and YACM (Youth Assn. for Classical Music).
The fest was held in different parts of the city.On August 7, the fest was held at Vidya Mandir school campus.
The program began with a dance and a song performed by the students of the School. The chief guest for the day was Kanimozhi.
Concert by Hyderabad Brothers (D. Raghavachari and D. Seshachari) and one by S. Sowmya and Nithyasree Mahadevan was presented.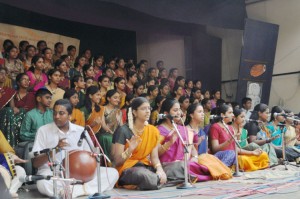 A debate, 'Varakari Sampradaya Harikeerthan' by Tukaram Ganapathy Maharaj.
A Treasure hunt game was also conducted during the day.
The photograph is of the performance of the Hyderabad Brothers and of the school students.