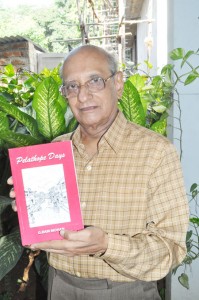 Mylapore fascinates people. Scores of them have written on it including the saints, travellers and foreigners. Its stories never seem to dry up.
G. Ram Mohan, a civil engineer by profession who went on to work for the Indian Railways Service of Engineers and retired as Commissioner of Railway Safety has now published a book called 'Pelathope Days'.
Ram Mohan released the little red book during the Madras Day celebrations last week and the first lot of copies were grabbed by the guests on stage and off it.
Says this resident of Sriram Nagar, Alwarpet, "I had toyed with the idea of writing about the charisma of Mylapore, having spent my youth in this part of Chennai. It took shape only after my retirement."
The book of 256 pages makes a delightful read as it transports you to a different time and space of life and people.
'Pelathope Days' is 'more about the times than my own life', clarifies Ram Mohan. To appreciate and enjoy the book more, all you need is a Madras-Mylapore connection at some stage in your life.
Palathope is a small, quiet colony located off the busy Mylapore area opposite the Thirumylai MRTS station, once a 'thope' which went on to become the home of a number of great advocates/lawyers.
Ram Mohan focuses on life at home with his parents and their six children. The daily grind of the average householder, the role of women as home makers, the system of education that prevailed at that time, social customs and the changes that started to crack the picture of the typical Mylapore ethos are described graphically.
With puckish humour he touches upon the way 'kudumis' were removed in protest and the colourful discussions on matrimonial alliances.
The book talks about superstitions that covered even little things like getting a haircut and  the practice of segregating women.
The book is priced at Rs.100 and is available at the author's home. Call 96001 64504, 2466 0081.