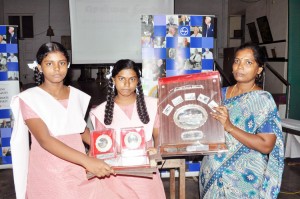 Lady Sivaswami Ayyar Girls School on Sundareswarar Street in Mylapore was the hub for three quiz contests held in connection with the annual Madras Day / Week celebrations this past weekend.
On August 21 afternoon about ten schools sent teams to take part in the Quiz in Thamizh open to city Thamizh medium schools. Quiz master Revathi R. may have kept it simple and straight and the final set of six teams faced the challenge gamely.
The rolling trophy for the winners went to the team from Rani Meyyammai Girls School in R. A. Puram (seen in the picture).
Though there were about 60 students around, the event gave them an exposure to a live quiz.
Hours later, at the same venue the Madras Quiz for Families rolled out with quiz master Balaji Thirumalai at the helm.
The skies were overcast and the streets were wet so the hall was not packed but those who took part seemed to enjoy the teasers and the straight ones.
Ultimately, the winners were R. Jayakanthan and his mother Chamundeswari.
The Madras Open Quiz was dampened by the steady, continuous rain through Sunday, August 22.
The quiz master was Balaji Thirumalai. The Quiz turned out to be a challenge.
The winners were N. Srinivasan and R. Shantaram.
V. S. Ramana, Head of Corporate Communications of L & T, the company which supported this and a few other events of 'Madras Day', gave away the prizes.
Pictures of 'Madras Day' events are on www.themadrasday.in.