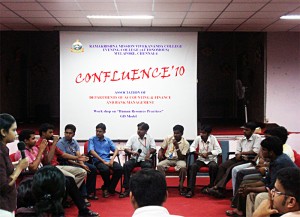 A workshop on "Human Resource Practices" was conducted for the final year students of Ramakrishna Mission Vivekananda College, Mylapore.
The workshop was held on Sept. 3, 7, 8, 9, 13 and 14.
This was organised by the departments of Accounting and Finance and Bank Management. Sri Ganesh, proprietor of 'The Dream Chasers' (career training institute) inaugurated the workshop.
The photo shows students attending the mock group discussion held during the workshop.
Students were educated on how to attend the personal interview, good body language during interview, how to draft a perfect professional resume, how to face group discussions.
A model group discussion and mock interview sessions were also held. They were also trained at improving the communication skills, presentation skills and other important soft skills.
Venketesh, Chairman and Proprietor of 'The Elitists Group', Dr. S. Swaminathan, principal of the college, Br. Bodhatma Chaitanyaji, evening college in-charge and others were present for the valedictory function.
Certificates were awarded to the active participants of the HR workshop.
The college can be reached at 044 – 24992815.