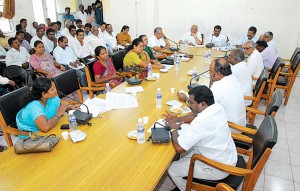 Are Mylapore's councillors and community activists taking the cue from what Chennai Mayor M. Subramanian said on September 7 – that all wards in the Chennai Corporation would have a 10-member group to discuss / debate local civic issues?
Photo shows local are councillors at a meeting with officials of stage agencies at their monthly meeting. It was held earlier this week at the Corporation's Zone 10 office.
Mylapore neighbourhood is covered by wards 142 to 150.
The group will consist of the local councillor as the head of the group, 2 Assistant Engineers (AEs) and the rest of the members will be made of individuals, heads of residents' associations and groups.
This group will meet the Assistant Commisioner (AC) of the zone and Mayor once in every 15 days to discuss the issues in the respective wards.
Though most councillors in the area were not able to provide much information about the working of the group, they said that citizens who are interested in doing social work can contact them to enlist their names.
N. Anbhazhagan, councillor of ward 147 ( Mandavelipakkam, Foreshore Estate) says that people who are willing to participate and spend time doing social work are most welcome to join this group.
'We are gathering the contacts of different people. This list will be submitted to the respective AE for evaluation in a few days ", says C. Kuppan, councillor of ward 143 ( Luz area).
'The members will be selected depending upon the number of active social groups or associations in the area. The most important criteria to be a member in this group, is that the person should be a 'social worker', immaterial of their political support or views', says A. Babu, councillor of ward 148 (R. A. Puram areas).
Umasasavi, councillor of ward 145 ( San Thome areas) says that she is concentrating on bringing in women who head self-help groups. They help in the development of the entire family. All civic problems begin at home and the problem should be corrected at the grassroot, " she says.
"We are collecting the contacts of people who can do well in this group. Those interested can contact me," says S. Mangalaraj, councillor of ward 144 ( areas around Madhava Perumal Koil).
T. Velu, councillor of ward 150 says that the priority issues for the team will be the disposal of garbage and dealing with mosquitoes. "We hope to form the team quickly," heads.
M. Jayaraman the councillor of ward 142 ( Alwarpet, Abhiramapuram areas) says that this plan put forth by the Mayor is very good. How well this can be executed is the real challenge. "People ready to take up civic issues and work on them are welcome,"he adds.
Mylapores keen to sign up can contact their respective area councillors. Here are the numbers:
142 – M. Jayaraman – 94451 90142
143 – C. Kuppan – 94451 90143
144 – S. Mangalaraj – 94451 90144
145 – Umasasavi – 94451 90145
146 – Selvi S. – 94451 90146
147 – N. Anbhazhagan 94451 90147
148 – A. Babu – 94451 90148
149 – Jamuna Kesavan – 94451 90149
150 – T. Velu – 94451 90150