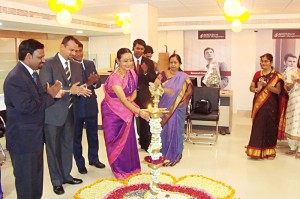 ICICI Bank has opened a Wealth Management Branch on Mylapore's Oliver Road (Musiri Subramaniam Road). The branch is located at 39/20 Oliver Road, Mylapore, Chennai.
The new branch was inaugurated by Prof. Sudharani Raghupathy, renowned Bharatanatyam guru.
ICICI Bank Wealth Management branch is an exclusive branch with priority service, private meeting rooms, locker facilities, in-branch ATM and an internet banking desk.
This branch has dedicated wealth managers who are designed to handle all top-end clients.
The branch will be open from 9 am to 6 pm, Monday through Friday and 9 a.m. to 2 p.m. on Saturday.
The branch will offer the entire range of ICICI Bank products including a range of deposits, mutual fund, current account, saving account, NRI services and investment services. Ph: 6451 0004.