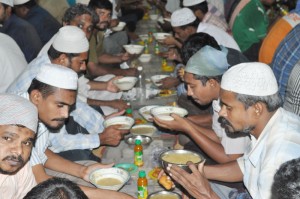 Ramzan was celebrated today, September 9. The muslim community in Mylapore welcomed the fest by greeting each other at the local mosques after Id prayers.
Some people said that since Id fell on a Friday, they had to attend to prayers a second time at the mosque and hence did not have the time to prepare a big feast for lunch. But others made sure the famed biryani was ready for family and guests.
The photo shows the community at Jumma Masjid mosque on Kutchery Road, San Thome breaking its fast by having snacks before the evening prayers on the last day of fasting.
A variety of food and snacks were prepared in the hall of this mosque and served to people before they attended evening prayers. Guests too were invited to partake of the special snacks.