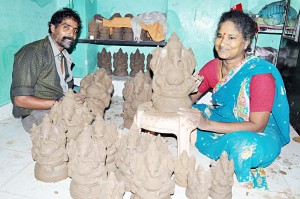 WATCH A VIDEO ON THIS REPORT>>>>>>>

Some traditions continue in Mylapore though they may be surviving on the fringe. Pottery is one.
The potters zone (kuyavar – pettai) of this neighbourhood located on and around Veeraperumal Koil Street (opposite Sri Anjaneya Temple in Luz) comes alive on the eve of Vinayakar Chaturthi.
55-year-old K. Babu and his team of four have been making the images of this deity for the past 3 days. They are made exclusively from clay and are not coloured or painted.
Sizes range from 10 inches to three feet, costing Rs.25 to Rs.150.
Babu says his team can make only a few images every day and they sell them on the pavement on Royapettah High Road.
Elsewhere in this colony, U. Shankar and his wife Kumudha (seen in the above picture) along with their children work from morn to dusk making Ganesha icons. "We are no more fulltime potters," he says "We are active during festivals like Chaturthi and Navaratri."
Work is restricted to their houses, choc-a-bloc in this densely habited colony of Mylapore. This is also one reason why the idols look alike and are limited in number, made from one single mould and designed by the potter's hands.
"All the images you see on the mada veedhis of Mylapore come from the suburbs where they are made as in a factory and they are all painted," says Shankar. "Ours are just clay!".
You can contact Babu at 988460 6101 and Shankar at 98419 33701.
Hawkers have also set up stalls along the wall of the tank on South Mada Street. You can buy Ganesh images here.