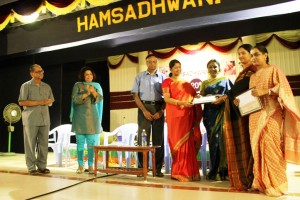 Dr. Varalakshmi Anandkumar and Savitha Narasimhan, two established Carnatic music artistes were decorated with the R. Ramachandran sadabhishekam endowment awards for 'outstanding performance in the music series held in 2009' by the Adyar-based sabha Hamsadhvani on Aug. 29.
The awards were presented by Kanimozhi, DMK MP. (seen in the pictures). Vocalist Sudha Raghunathan also spoke on the occasion.
Dr Varalakshmi Anandkumar is a senior disciple of D. K. Jayaraman and has been active on the concert circuit for several years. She is the author of 'Janaranjakam', a book of 50 notated songs popularised by D. K. Jayaraman.
A doctorate holder in French, she teaches at the Queen Mary's College. Contact – 98400 63908
Savitha Narasimhan is senior disciple of Ravi Kiran for over 15 years. A popular artiste who has travelled abroad several times, she is also the recipient of awards and prizes.
She is a resident of R. A. Puram.