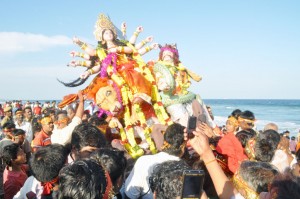 Durga Pooja was celebrated at the Sri Ramakrishna Math from Oct 13 to 17.
Special poojas, arati and bhajans were arranged on all days.
On the last day the image of Goddess Durga was immersed into the sea in Foreshore Estate.
On October 22, Lakshmi Pooja will be celebrated at Sri Ramakrishna Math. There will be a special pooja and bhajan at 7 p.m. and prasadam will be distributed at 9.30 a.m.
The Math is located at 31, Ramakrishna Math Road, Mylapore. Ph: 2462 1110