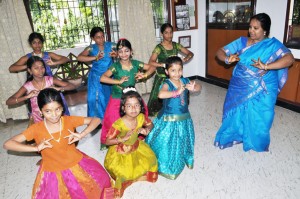 Vijayadashmi was celebrated on Oct 17. This marks the end of the Navarathri festival.
This is considered an auspicious day to start a child's learning. It is also a day to pay respects to one's guru.
In Mylapore, which is a hub for music and dance schools, the celebrations were varied.
Bharatanatyam guru and dancer Sasirekha Rammohan invited the six new students to her dance school in Mandavelipakkam and introduced them to the dance. Hers was a simple ceremony of initiation. (Seen in the picture)
Five students joined the classes that Carnatic music vocalist Shuba Ganesan runs at her school on 6th Trust Cross Street, Mandavelipakkam.While the freshers were initiated, the regular students stood by and later sought the blessings of Shuba.
Senior mridangam artiste and guru 'Guruvayur' Dorai admitted two new boys into his school which is located at Saradhapuram Ist Street in Mylapore.
Similar were the scenes at scores of schools of music and dance across this neighbourhood.
Enjoy the photos taken on this occasion. Go to the photo gallery.