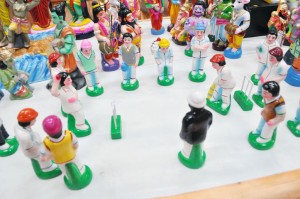 The Navarathri festival colour has arrived at Mylapore mada veedhis, on one key road alongside the temple tank.
Hawkers have spread the dolls sourced from different places on the pavement.
Images of Hindu deities, an array of fruits and vegetables in plastic and in mud and doll tableaux are on sale here.
You need to pavement-shop for a while if you want to locate the best buys.
Sandalwood images of Nataraja catch your eye at one corner. These images have been crafted and brought from Karnataka, the hawker tells us.
The colours, designs and varieties lend to the festival atmosphere.
You can also shop for dolls at the Khadi Kraft store on R. K. Mutt Road behind the row of MTC bus stops. These dolls start at Rs.50 and go up to Rs.2000. The shop's contact number is 2464 2365.