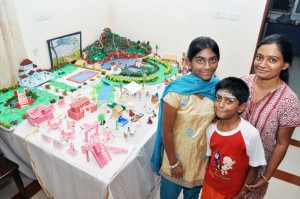 Navaratri season is on. And Mylaporeans have set up the traditional kolu in colourful and thematic ways.
Some have brought out the old images and dolls they have treasured. Others have bought new dolls at stalls on the mada veedhis around Sri Kapali Temple.
Mylapore Times brings you photos of a variety of kolus in this neighbourhood.
The picture here shows Uma Subramanian, her handmade thematic kolu consists of thermocol, ice cream sticks, clay and colour paper.  She has made a miniature of a park, house and playground. She resides at Mithila Apts., Justice Sundaram Road, Mylapore.
Click here to see pictures of families and groups who have set up the kolu. Some pictures were emailed to us. Some were taken by staff photographer R. Saravanan. You too can e-mail a photo of your kolu.