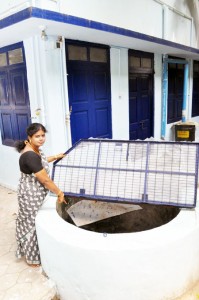 Metrowater had been organising meetings on Rain Water Harvesting (RWH) in order to sensitise people to the need to maintain and renovate their  structures to ensure they make the best of the monsoon ahead.
"We have started inspection of RWH structures in residential complexes," says M. Soundararajan, Asst. Hydrogeologist, Metrowater.
He says that divisional depot engineers will be prepared to visit large campuses and colonies if invited and suggest ways to maintain the RWH structures.
Engineers say that the silt that could have accumulated has to be removed in order to prevent the overflow of rain water.
This process of maintenance is simple and residents can do it themselves.
Sekhar Raghavan, Director of Rain Centre in Mandaveli says that they have been working alongside Metrowater in this pre-monsoon campaign.
He also said that people can drop by at the Rain Centre to educate themselves on the techniques. They must call and fix an appointment – at 2461 6134
Soundararajan says that people can contact the 'Rain Water Harvesting cell' for any queries on maintenance of RWH structures. The number to call is 2845 4080.
More information can be got from www.chennaimetrowater.tn.nic.in. You can also contact Soundararajan at 7845061787.