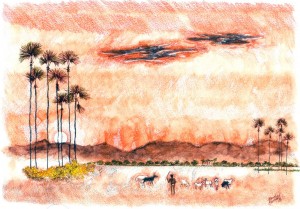 An exhibition of water colours are on display at the Lakshana Art Gallery, Judge Jambulingam Street, Mylapore.
These are the paintings of artist Manohar Devadoss. Devadoss, who draws and paints despite almost nil vision has produced a large body of art works and has donated the proceeds of the sale of these works to charity.
The works on display are a new series. The exhibition is sponsored by Prakriti Foundation and was inaugurated on Monday, October 18 at 7 p.m. and is on till October 23 at this gallery.
The artist can be reached at 2498 2484
<< Read a preview on this show >>