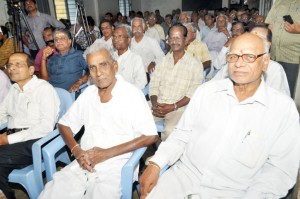 P.S. High School (North) celebrated the Alumni Meet of 1977 – 1982 batch on November 20.
Over 150 people, consisting of old teachers, old students and the present headmaster and staff of the school participated in it.
The photo here is of the retired teachers from the school who attended the alumni meet.
Our oldest headmaster A. Ramachandran (90) was present says S.R.Muralidharan, an old student of the school.
He stayed through out the program and gave a short talk about the old memories he had of the school, he says.
Lunch was catered to all those who were present.
The old students presented a shawl, sweets and a silver kuthuvilakku to all the old teachers.
The alumni committee can be reached at pshiscool_n@hotmail.com.