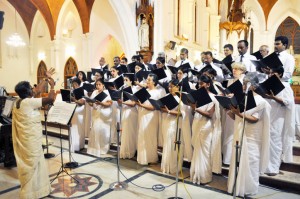 The Handel Manuel Chorus performed at the National Shrine of St. Thomas Cathedral Basilica, San Thome on November 20 at 7 p.m.
The choir of 35 people sang sacred hymns.
The choir sang songs from different centuries to portray the evolution of church music.
Sharada Schaffter conducted the choir and Damayanthi Santwan was the accompanist.
The choir performed for an hour singing different hymns on the theme 'From Kyrie to Calypso'.