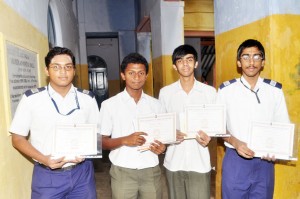 Vidya Mandir and P. S. Senior School topped the Srinivasa Ramanujan Academy of Maths Talent 'Math Quiz' conducted on November 20 at Vivekananda Auditorium, P. S. Hr. Sec. School.
The quiz was conducted as part of the souvenir release and presentation of the Srinivasa Ramanujan Award.
Chris Richard (second from left) and S. Siddharth (third from left) of Vidya Mandir were placed first.
The second place was won by G. Ananthakrishnan (first from left) and Varun B. Dwarakanathan of  P. S. Senior.