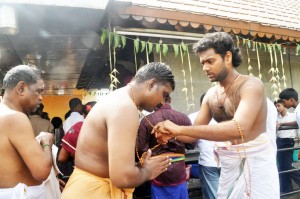 Devotees flocked to the Sri Iyyappan Temple in MRC Nagar, R. A. Puram for mandala pooja on November 17.
The photo here shows a devotee getting his mala from the temple priest after the special prayers.
This is celebrated on the first day in the Thamzil month karthigai. Devotees wear the mala and offer special prayers for the next 45 days. The mandala pooja will be on till December 27.
Many people had come to this temple to attend this pooja and get special prasadams.