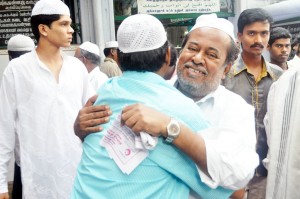 Though the skies were overcast, the Muslim community in San Thome and Mylapore gathered in large numbers for prayers at the local Jumma Mosque on the occasion of Bakrid.
This ancient mosque is located at the eastern end of Kutchery Road. After prayers, it was time to offer greetings and share pleasantries.
The community at this mosque follows a unique charity. The skins of goats butchered in its vicinity at Badrid time are sold and the monies collected is used to fund the education of poor children. Elders here said that this practice has been in vogue for many years now.
<<  You can email photos of community celebrations in your colony / campus to Mylapore Times. They will be posted on the site >>