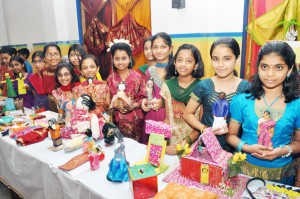 A display of Indo-Japanese fusion dolls was held at Chettinad Harishree Vidyalayam on November 16. On display were dolls from India and Japan.
It was part of the curriculum activity for the students of class 6, says Deivanai Vellayappan, Principal of the school.
The event began with lighting of the lamp by the school's principal.
The students made a comparative study of the Indian Kolu festival and the Japanese Hinamatsuri festival.
They got to know the many similarities between the Hinamatsuri in Japan and the traditional Kolu.
Some of the dolls on display were made using biodegradable items. The hall was decorated with Origami hangings, rangoli and kolam. The Japanese Embassy in the city had lent their dolls for day.
Deivanai says that the purpose of such projects is to qualify them for the International School Award given by British Council.
Each grade is encouraged to do such projects on different themes, she adds.
– Reported by Madhumitha Sriram / Student Reporter