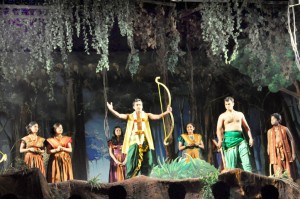 The photo here is a scene from 'Raghuvamsam', the new play staged by Chettinad Players, a campus-driven production of Chettinad House and Chettinad Vidyashram which was premiered on Thursday evening at the campus in MRC Nagar.
While professionals like Thotta Tharani and Kumaravel have played a key role in this production, school principal
S. Amudha Lakshmi has created the costumes. The artistes are senior school students. The play is in English though it is based on a part of an Indian epic.
Shows are scheduled from November 25 to 28 at 6 p.m. The shows are ticketed and tickets are sold  at the venue at Rs.250.