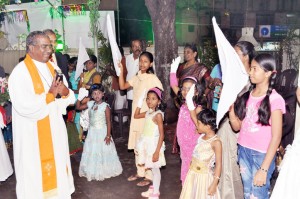 A special service was held at the St. Thomas CSI Tamil Church, San Thome on November 17.
Bishop Rev. Dr. V. Devasagayam came to the church in a procession accompanied by horses, motor bikes and nadaswaram artistes.
The occasion was the 'First Holy Communion' for the children and a marriage ceremony.
Rev. John Victor, the pastor here welcomed the Bishop and the gathering.
Food was served to all after the service was over .
This event was organised by the youth members of the church. The church can be reached at 2464 0737