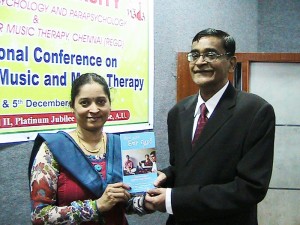 "Idham Tharum Tharum Isai Therapy" is a book on music therapy in Tamil.
Lakshmi Mohan a music therapist who works with autistic children through music has released this book.
She has translated the book "Self-Music therapy" into Tamil, which is written by Dr. T. V. Sairam.
This book was released in the international music therapist's conference at Vishakappattinam on December 4.
It focuses on music therapy, music and neurology, ragas and feelings, music therapy for children and special children and rhythm therapy.
She can be reached at 23, Kamal Apartments, 4th Main Road, R. A. Puram. Ph: 99621 29333.