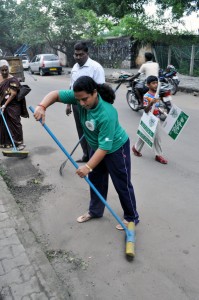 Friends of Adyar Poonga organised a clean up campaign 'Shuddham 2010 – 11' on Sunday.
About 80 people participated in it.
It started with a street play performed by the students of Dr. M.G.R. Janaki College. Students performed on the themes, 'Alternate energy' and 'Civic issues'.
The group split into four and cleaned Kandaswamy Street, Raja Street and Town Planning Scheme Road in R.A. Puram.
The groups reclaimed some footpaths and clean the roads. The cleaning equipment was provided by Neel Metal Fanalca.