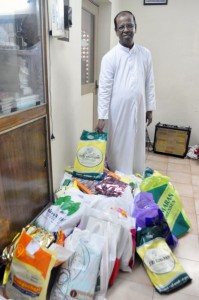 At St. Thomas Basilica the congregation was invited to donate new clothes and books for the poor children in the area.
These will be collected throughout the week and are to be distributed at the end of the week. Contact the parish office if you wish to make a donation. (Seen in the photo)
Special carol singing events are on in all the neighbourhood churches this Sunday.
A special Holy Christmas Mass will be held at Our Lady of Guidance, R.A. Puram for the old and bedridden on Sunday, December 19 at 10.30 a.m. They will be treated with a small party after the Mass.
There will be carol singing on Saturday, December 18 at Our Lady of Light Shrine, Luz. Different pious groups in the church will participate. It will be held from 6 p.m. onwards.
CSI St. Thomas English Church in San Thome is having carol singing service this Sunday at 6 p.m. Various groups will participate in it.