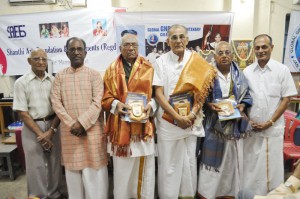 Senior artistes were recognised on the opening evening of the annual music festival hosted by SAFE at Sastri Hall, Luz.
The photo shows vidwans G.S. Mani, Seerkazhi Jayaraman and K.R. Saranathan seen with SAFE's founder Ramabhadran (extreme left).
Concerts are held every day till December 18.
For more details about the music season log on to www.kutcheribuzz.com.