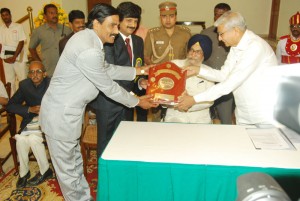 Governor of Tamil Nadu Surjit Singh Barnala presented a silver rolling trophy to the Mylapore-based Chennai south centre of St John Ambulance Association at a function held at Raj Bhavan on December 27.
This award is in recognition of its overall performance in Tamil Nadu that has 120  branches.
The Chennai city south Centre has been functioning in Mylapore since 1978 and has been involved in training students, factory workers, Scouts and Guides, N. S. S. and J. R. C. Volunteers in first aid. The award was received by K. J. Suriyanarayanan, Honorary Secretary.
On the occasion Luz Avenue resident S. Krishnamurthy was honoured by the Governor for his three decades of service to the St John Ambulance. SK, as he is known popularly at the Mylapore Club is also the treasurer of the Mylapore Academy. Contact: 98415 97750