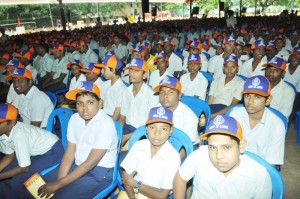 Sri Ramakrishna Math celebrated the 26th National Youth Day on January 12 at the Ramakrishna Mission students' home.
Over 1200 schools and colleges participated in the written, essay, poem and dram competition. The theme for the contest was 'Life and teachings of Swami Vivekananda'.
Swami Gautamananda felicitated the winners of the contest.
Eminent persons like S. Gurimurthy, columnist, M.N. G. Mani, Secretary general, I.C.E.V.I., K. Vaidyamathan, editor of Dinamani, M. Karunanithi, Chairman of Vivekananda Educational Institutions – Tiruchengoda and V. Muralidharan, founder of Sevalaya were the guest speakers.