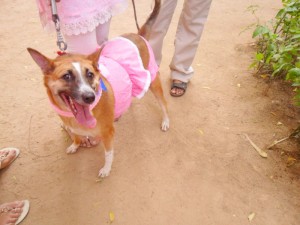 Reported by Priyanka Subramanian
The C.P. Arts Centre was filled with Indian dog owners on January 23 for the Wacky Mongrel Show organised by The Blue Cross of India.
Nearly 60 dogs participated in the show.
Each participant received a "Proud to be an Indian" medal. 30 additional trophies and awards were given for dogs in different category.
Brayan W. Dalton, Chief of Consular services at US Consulate Chennai was the Chief Guest.
The judges were Veterinarian Nagarajan and Karate Celebrity Shihan Hussaini. Actress Suhasini Manirathnam was a special invitee.
Pups were given away for free adoption.
The free grooming stall and a water kiosk for dogs was also set up at the venue. There was also a photo counter and merchandise stall set up by Blue Cross.
This show is an event to promote Indian breeds among dog lovers.