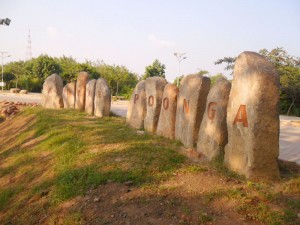 Reported by Priyanka Subramanian
The Adyar Eco Park was inaugurated on 22 January by Tamil Nadu Chief Minister M. Karunanidhi.
Deputy Chief Minister M. K. Stalin was also present during the occasion.
The Adyar Poonga will henceforth be called as Tholkappiya Poonga, named after the Tamil scholar and poet Tholkappiyar.
It will be open for public from 15 February for a small entry fee.
The Poonga has already become home for various species of frogs, turtles and many endangered species like Brahminy Skink and white-breasted Kingfisher.
An eco-friendly environment education centre has also been built to impart environmental education and to conduct awareness programmes about the wetland ecosystem and coastal ecology.
Almost 1.37lakh saplings from 172 native species of trees, shrubs, herbs, reeds and tuberous plants were planted to serve as habitats for aquatic, terrestrial and arboreal species.