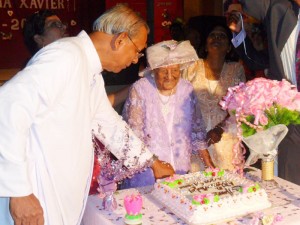 The 100th birthday celebration of Cecilia Xavier was celebrated on January 31 at her residence in San Thome. She was born in the year 1911.
A special Holy Mass was held for friends and well-wishers on February 1 at St. Thomas Basilica, San Thome at 6 p.m.
This was followed by cake cutting and dinner at the St. Bede's School auditorium. During the Holy Mass Cecilia sang a devotional song.
She was surrounded by her children, grand children and great grand children on the occasion. Many of her friends and family were also present on the occasion.
Rev. Dr. Lawrence Pius, Auxiliary Bishop of Madras – Mylapore was amongst the special invitees.