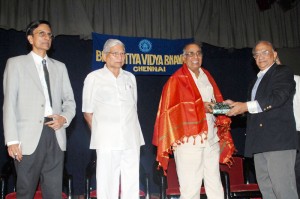 S.V Narasimhan Memorial Oration was held on January 28 at Bharitya Vidya Bhavan.
T.S. Krishnamurthy, former Chief Election Commissioner delivered the "S.V. Narasimhan Memorial Oration". He spoke on the negative influences corroding and corrupting the functioning of democracy in India.
Justice S. Mohan, Retd. Judge, Supreme Court of India, was the chief guest.
S.N. Srikanth, CMD, Hauer-Diana Group proposed the vote of thanks.
S.V. Narasimhan, or 'SVN' as he was fondly known, was a Patron of the Arts and a philanthropist.  He was also Chairman of the Chennai Kendra of the Bharatiya Vidya Bhavan and was associated with numerous religious, social and charitable bodies.
Seen in the photo is T.S Krishna Murthy honoring Justice S. Mohan. Joining them are S.N Srikanth and N.Sugalchand Jain, Vice-Chairman, Bhavan's Chennai Kendra.