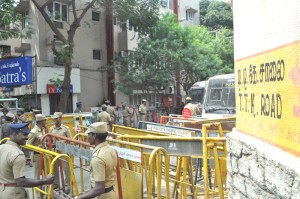 The TTK Road branch that houses the offices of the Sri Lankan Deputy High Commission in Alwarpet is a secured place.
Of late there have been a series of demos by political parties on the issue of the shootings/killings/detention of Tamil Nadu fishermen on the international boundary line (IBL) that demarcates the Sri Lankan and Indian waters. So, this place in Alwarpet is witnessing a lot of action.
More policemen are stationed here. A few police vans are parked on the main road too, ready to meet any eventuality.
Starting with a big demonstration held a week ago by the DMK party in which party MP. Kanimozhi participated and was arrested for the day, many parties and groups have carried out demos here.
All this is affecting the flow of traffic on the main TTK Road.
<< You too can report spot news happenings or mail us pictures of such happenings >>