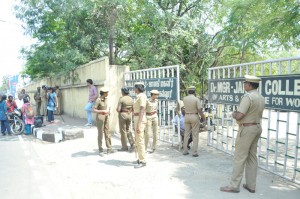 The Madras High Court has granted conditional bail to the four college lecturers arrested in connection with the suicide of student, Divya of Olcot Kuppam.
The bail was granted to them on Tuesday.
Justice K.N. Basha had stated that each case had to be decided on the basis of the facts and circumstances of the case.
He further stated that there was not even a prima facie ground made out in resorting to the arrest of the four persons.
Below is the story filed on February 7.
Dr. MGR Janaki College of Arts and Science for Women which was shut down for the weekend following the arrests of four lecturers following the suicide of a student reopened on Monday but its gates were secured by a group of policemen and women.
The college is in R. A. Puram.
The police were stationed here to tackle any untoward incident.
Last week, four college lecturers were arrested by the police following the suicide of a girl from a Besant Nagar kuppam who was pulled up in connection with a case of missing cash.
On Friday, a court denied bail to the accused.
Shastri Nagar police investigating this case said Divya was accused of stealing Rs.4000 and four lecturers had conducted a search on her. Her family said this incident led to her suicide.
The girl's family and the community had gone to the college and demanded action against the four lecturers who were later arrested.