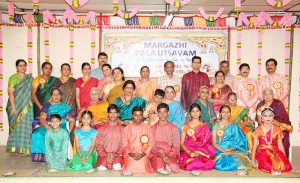 Sri Sumukhi Rajasekharan Memorial Foundation celebrated the ninth year "Margazhi Bala Utsavam" – An Exclusive Childrens' Festival. Nearly 700 children and youth participated in various competitions held.
Dr. C.Vamsadhara, Ph.D., Dean, Stanley Medical College, Chennai, was the chief guest and the guest of honour was Manju Barghavee of "Sankarabaranam" fame.
Various competitions like Bharatanatyam, Carnatic Music, Bhajan and classical music were held.
Various titles like Natya Bala Brahmam, Sangeetha Yuva Bushan, Maha Vidhyapeetam award (The Best Educational Institution Award) were presented to students and institutions.
The seventh year patron – Smt. R. Nagammal "Swarna Kalas" rolling trophy was presented to "Ram Sangeeta Vidhyalaya" – Guru Anausuya  Ashokkumar for large number of student participation.
The photo shows the  participants of the Utsavam posing along with the Mylapore Trio.
.