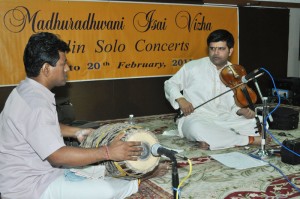 Shanmukhapriya, a cultural wing of Swamy Publishers Educational and Charitable Trust is organising Madhuradhwani Isai Vizha. A series of violin solo concert. This fest is on till February 20 at Swamy's Hall, Sandhya Mansion, No. 236, R.K. Mutt Road.
On February 16, Mylaporean V. Srikanth gave a solo violin performance seen in the photo.
He was accompanied by B. Sivaraman on the mridangam and K.V. Gopalakrishnan on the kanjira.
Concerts are being held here every day at 6.30 p.m. till Feb.20. For more details call 2493 8365.