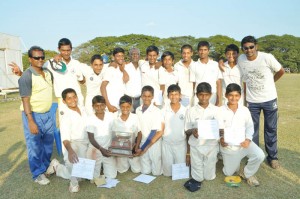 St. Bede's cricket team won the Somasundaram trophy by winning the final match of the TNCA Sumeru-Soft schools cricket tourney held on Feb. 15.
This tourney is a prestigious one for city schools.
The team beat another neighbourhood school team – that of Chettinad Vidyashram of R. A. Puram in the match held at the CPT ground in Taramani, south Chennai.
St. Bede's had two heroes who helped them win convincingly. All-rounder Washington Sundar who scored 68 runs and bowler V. K. Karthikeyan who took 4 wickets for just 20 runs.
Chettinad won the toss on Tuesday morning and put St. Bede's into bat. The team put up a score of 217 for the loss of 8 wickets in the allotted 50 overs.
Chettinad's K. R. Abhishek took 3 wickets.
But when Chettinad started its innings its batsmen found the St. Bede's bowling tight. Runs were slow in coming and wickets fell at regular intervals.
One man held out – Vignesh Umamaheswaran batted on and notched 77 runs off 99 balls scoring 3 sixes and 7 fours. His score though was not enough to take Chettinad anywhere close to the St.Bede's total.
Chettinad was all out for a mere 132 runs ( in 41.4 overs).
It was an easy victory for the San Thome team. Mohan, chairman of the TNCA schools and colleges committee was the guest at the finale and presented the trophy to St. Bede's captain M. V. Vishal Sundar. St. Bede's R. Ashwin set a record of sorts in this tourney by taking 24 wickets in 8 matches.
– Reported by R. Saravanan
<< Want to comment on this event or wish the heroes? Do it now and here! >>
<< We invite reports on sportspeople from this area who excel in the
field. Do write in >>