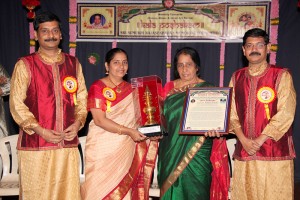 Sri Sumukhi Rajasekharan Memorial Foundation celebrated its eighth anniversary and the commemoration of the fifth year "Kala Poshakam" on February 11 at Narada Gana Sabha.
Dr. Rukmini Ramani, Founder Director, Sivan Arts Academy, was conferred the title "Guru Brahmam" for her service and contribution in the field of music (seen in the photo).
The title "Nrithya Chinthamani" was given to Balagurunathan (Bharatanatyam Dancer), for his remarkable talents in Bharatanatyam.
There was a carnatic music recital by disciples of Rukmini Ramani followed by a dance recital by Balgurunathan and other awardees.