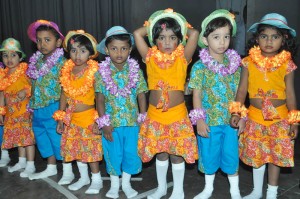 The staff and students of Silver n Springs celebrated their eleventh annual day on March 20 at Bharatiya Vidya Bhavan, Mylapore.
G. Neelakantan, principal of Sir Sivaswami Kalalaya Senior Secondary School was the chief guest.
B. K. K. Pillai, chairman and correspondent of shrine Velankanni Schools was the guest of honour.
A variety of cultural programs were presented by the students. The student of LKG presented a Goan dance seen in the pictures.