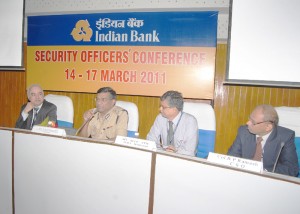 Indian Bank organised a 4 days training programme for all the security officers at their branches at IMAGE auditorium, MRC Nagar, R. A. Puram from March 14 to 17.
About 30 security officers posted at various parts of the country attended this programme to update their knowledge and skills.
The training session began on March 14 and was inaugurated by V. Ram Gopal, executive director.
T. Rajendran I.P.S., Commissioner of Police, Chennai was the guest of honour on March 15. He addressed the participants on "Present trends in Bank Crimes including Cyber Crimes".
An exhibition of modern security equipment and fire fighting equipment was also organised.
Seen in the photo is T. Rajendran I.P.S, Commissioner of Police, Chennai, and from the left Rajeev Rishi, Executive Director, R. Ravi, General Manager, Col B. P. Ramesh, Chief Security Officer.