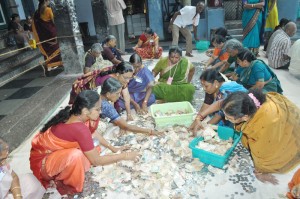 Counting the cash dropped into hundials by devotees is a routine affair at temples. But the count at Sri Velleeswarar Temple on Mylapore's South Mada Street on Wednesday was mandated by the Madras High Court.
The Hindu Religious and Charitable Endowments (HR and CE) Department and the Chairman and Board of trustees of this temple had disagreed on the modalities.
The hundials began to fill up and had to be set aside once they were full. The issue was not resolved and the trustees realised they were losing donations so they took the issue to court.
The practice followed at the counting of the cash is for officers of the HR and CE, the trustees and the public to be present.
After  the auditing a payment of Rs. 25, 000 was being made to the HR and CE Department.
The department made a further demand of 11% of the temple's total annual income for its services and this is what R Shanmugam, senior auditor and Chairman, Board of Trustees of the temple challenged.
His argument is that there is no need  for the amount to be paid as the government had neither lent its services nor did the temple administration ask for it.  The High Court upheld his contention.
On March 2 the counting of the hundials was done in the presence of  the Assistant Commissioner and 3 executive officials of the HR and CE department. 40 people from the public which included bank officials were also present. An amount of four and a half lakhs was the count.
Shanmugam says that the trustees are hereditary and the temple is a denominational temple and is managed by the trustees who are selected by the Mylai Sengunthar Mahajana Sangam.
Shanmugam contends that the HR and CE department has no right to get into the internal affairs of the temple.
The last time the hundials were opened was on August 10 last year.