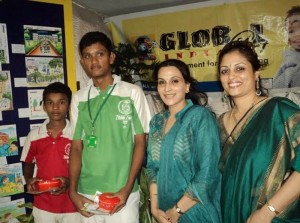 Kalaa Manjari had an art competition for non-global art on February 27 at Kalaa Manjari on the topic ' I love my school'
Many children from the ages 5 onwards took part in this contest.
4 special children from the St. Louis School of Deaf and Dumb were also part of the contest.
The chief guest for the event was Aishwarya Dhanush. She distributed the prizes to the winners.
Seen in the picture are the special children who won the contest.
You can reach Kalaa Manjari at 98402 25570 /98404 21305.