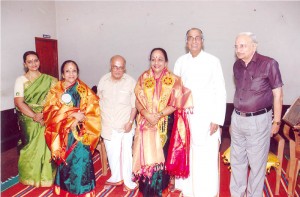 The inauguration of the sadguru Sri Thiagaraja Swami music festival was held on March 26 at Raja Annamalaipuram Baktha Jana Sabha.
Bombay sisters C. Saroja and C. Lalitha were felicitated during the inauguration. Seen in the top picture are (L-R) Bombay sisters, R. Srinivasan, president of R.A. Puram Bhaktha Jana Sabha, S. Mohan, Former judge, Supreme Court and S. S. R. Rajkumar.
A. Natarajan, Former director, Doordharsan, Chennai Kendra presided.
Pancharathna Krithis of saint Thyagaraja were sung by vidwans and vishushes, accompanied by artists on violin, mridangams, khanjera and ghantam was held on March 27.