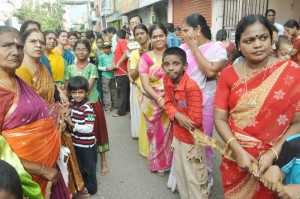 The Brahmotsavam of Sri Karaneeswarar Temple, Bazaar Road, Mylapore is on. The kodiyetram was held on April 8.
Adhikara Nandi is on April 10 at 7 a.m.
Rishaba Vahanam is on April 12 at 8.01 p.m.
Ther procession is on April 14 at 7.40 a.m. Seen in the picture are some of the devotees pulling the ther.
Thirukalyanam on April 17 at 6 p.m.
The Vidayatri festival begins on April 19 and will be on till April 28.
There will be dance and music performances every evening at the temple premises.